Horse ownership is a serious investment and one of the biggest decisions we make is what saddle to ride in. And, with so many saddle brands out there, where do you start?
You will probably have seen many top professional riders riding in Voltaire Design saddles… but what is it that makes them so special? Here, we take a closer look at just why their saddles have become so popular – and discover more about their new "Essentials Range".
Voltaire Design's winning formula of cutting-edge design, first-class craftsmanship and French flair is appreciated worldwide. And, the depth of research and development at Voltaire Design shines through in their new Essentials range collection.
What's New about Essentials?
It's a range which is perfect for both amateurs and professionals alike. Those who love the quality, comfort, style, and durability that have become synonymous with the brand will appreciate its more accessible option.
Put simply, the Voltaire Design Essentials range offers versatility, adjustability and exceptional security in this jump saddle alternative.
A perfect fit for horse and rider
To create the perfect fit for your horse, the Essentials saddles are semi-customisable – being available in traditional widths (narrow, medium and wide), with the added benefit of an adjustable gullet head plate which allows for fine tuning for the perfect fit and changes in shape.
And, for the rider, the seat can be customised according to traditional seat sizes ranging from 16.5 – 18 inches and can be supplied in black or brown, for personal choice.
All this gives you a saddle which can be fully tailored to both you and your horse.
Double or single flap
And there is one more key bonus to the Essentials range of saddles – they are available with either a double or mono flap.
Mono flap saddles are becoming ever more popular because they give the rider a close contact between the horse's back and the seat of the saddle.
When it comes to choosing between a double flap or mono flap saddle, it is very much down to the personal preference of the rider.
That said, some horses are not 100% comfortable with the slightly closer contact of the mono flap saddles, so if you are unsure whether your horse would suit a mono flap saddle, please get in touch with the team at Voltaire Design for advice. Email info@voltairedesign.com
A close up and personal look at the Voltaire Design Essential Double Flap Jump Saddle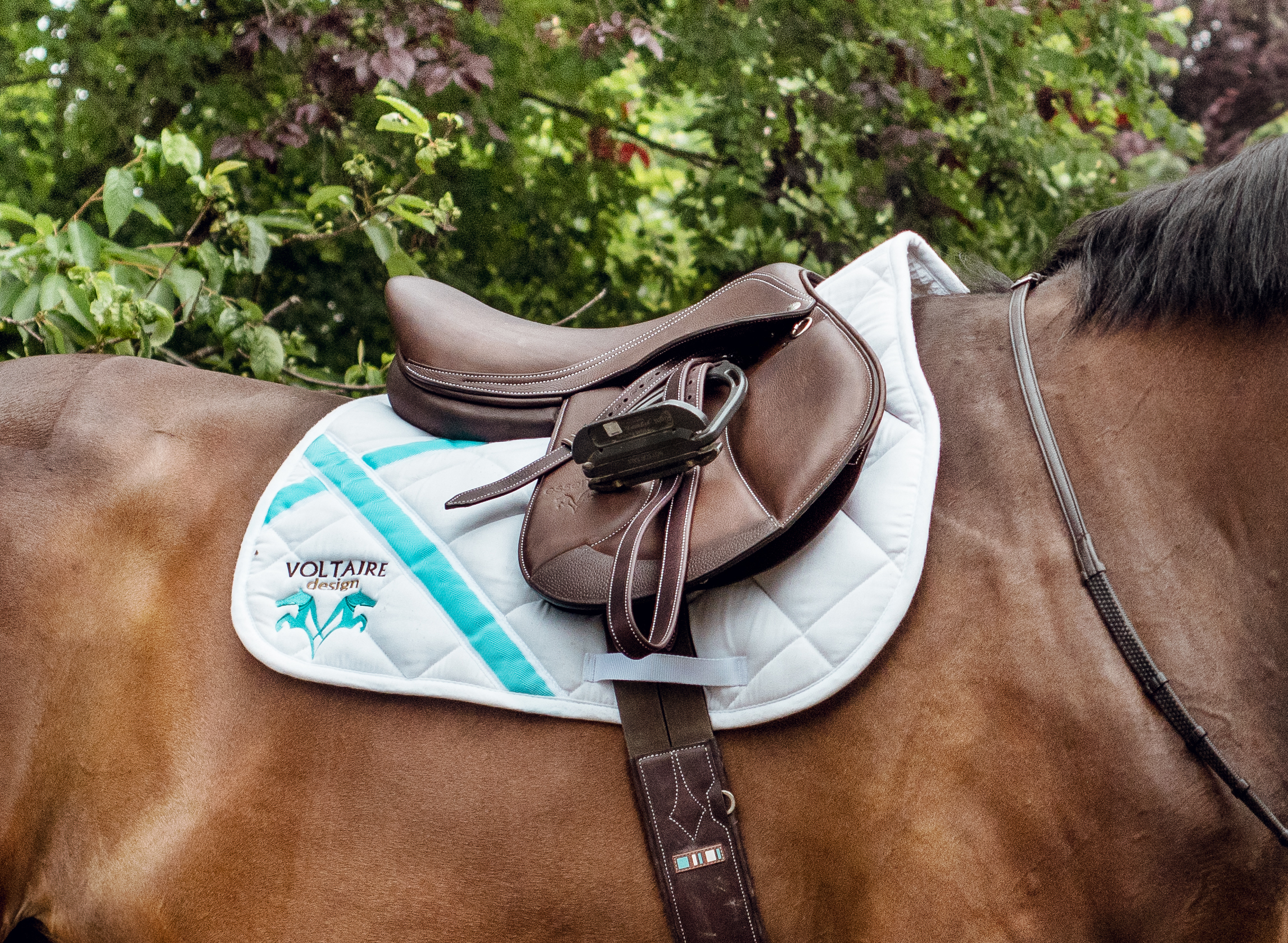 Voltaire Design's Mono Flap Saddle as seen on their website www.voltairedesign.com/uk.